Trusted Oak Cabinetry & Woodworks
Revamp your space with our exquisite cabinet collection – Discover your perfect fit and elevate your interior design today!
We offer an extensive selection of modern custom cabinets Warrensburg and custom-built cabinetry at Trusted Oak Cabinetry. Each piece is carefully crafted from the highest quality materials available to ensure that your cabinets remain beautiful for years. Our experienced team helps you design truly unique pieces that combine style with functionality – whatever look or feel you desire in contemporary wood grains, bold finishes, and sleek lines – it's all here! With our help every step of the way, let us create customized storage solutions specifically tailored just for you!
Looking to make a statement with your cabinetry? Want custom cabinets Warrensburg that perfectly fit the aesthetic and needs of your home? With Trusted Oak Cabinetry, you'll get exactly what you need! Our experienced professionals work hard to understand all your requirements before creating exquisite modern pieces made specifically for Warrensburg homes. Don't wait any longer – reach out today and start crafting furniture that will surely be a showpiece in any room, from kitchens and bathrooms to laundry rooms. A piece tailored just for you awaits – contact us now!
Transform your home with one-of-a-kind cabinets crafted to perfectly suit your needs. From extra storage solutions for the laundry room to show-stopping pieces in the kitchen, Trusted Oak Cabinetry will work side by side with you every step of the way – carefully designing exquisite custom cabinetry right here in Warrensburg! With years of experience and experts on hand providing advice on materials and installation options, we guarantee an end product that's tailored just for you. Reach out today – let's create something beautiful together!
Trusted Oak Cabinetry strives to bring its customers long-lasting beauty and durability through custom cabinets crafted with the utmost care. Expert hardware and construction techniques are blended seamlessly with top-grade materials from trusted suppliers, making for a cabinet that will stand up to anything life throws at it while never compromising style or functionality! With hardwoods, plywood veneers, and finishes of your choice – you can trust our cabinetry will last you years down the road.
We also specialize in modern design elements such as pull-out shelves, soft-close drawers, lazy susans, and more. Our cabinetry is designed to maximize storage and usability while adding style and sophistication to any room in your home.
For custom cabinet makers Warrensburg you can trust, look no further than Trusted Oak Cabinetry. Our experienced team of designers, builders, and installers will work closely with you to create the perfect piece of cabinetry for your home. Contact us today to get started on your project!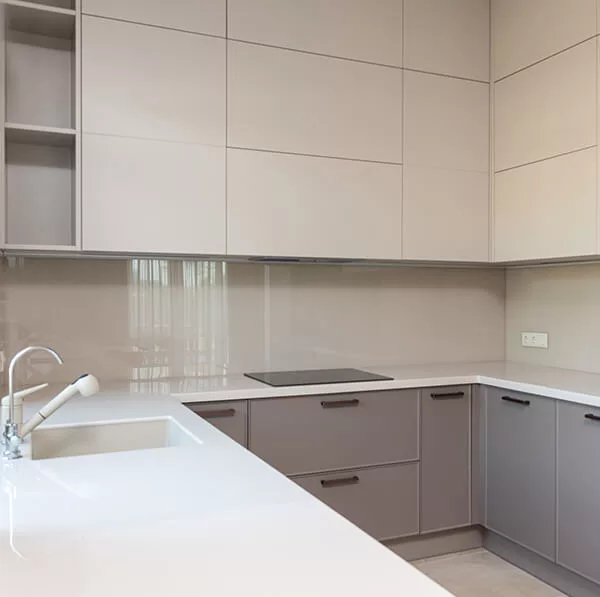 Warranty and Satisfaction Guaranteed
Transform your space with quality, custom cabinetry crafted by the experienced team at Trusted Oak Cabinetry. Our commitment to customer satisfaction and attention to detail is unparalleled; you can rest assured that all of our cabinets will meet your exact specifications and be backed up by a warranty covering any defects in materials or craftsmanship. Plus, if for some reason you're not satisfied with what we've created – don't worry! We'll do anything it takes until it's right. Make Warrensburg yours today – contact us now to start turning those dream plans into reality!
We look forward to helping you create the perfect piece of custom cabinetry for your home, and if you locate outside of Warrensburg, Mo so don't worry check out Trusted Oak Cabinetry kitchen cabinets Sedalia, Mo